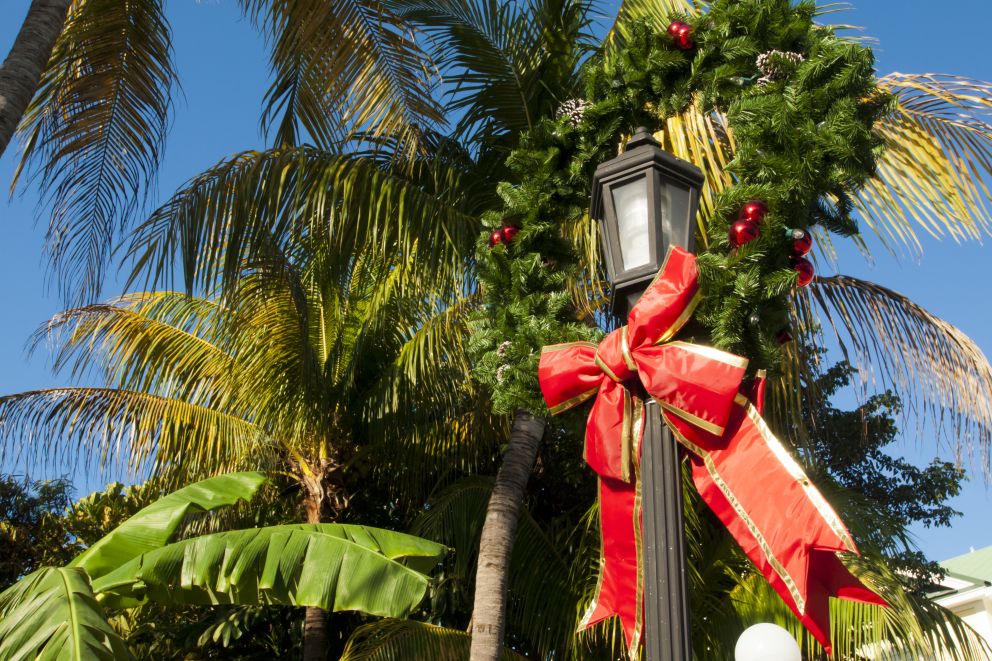 December
---
VISITING KEY WEST IN DECEMBER
December deals, tips, weather, events and more
The whole month of December, Key West is alight! And what's extra special is that our very own Stock Island now has its own three-day festival in mid-December, with food, arts, and more. I Love Stock Island brings people back to the feel of the old Key West.
Where to start with everything else that happens here in December? Whatever your bag, Key West fills it. The Key West Triathlon draws about 1,000 participants—lucky for them, the water is warm and the air temperature is just right. Architecture and history buffs can check out historic homes all gussied up for Christmas and New Year's, with tours run by the Old Island Restoration Foundation. And, of course, Key West loves a parade and a party like no other place on Earth. The Lighted Bike Parade, the Lighted Boat Parade, and—yes—the Dachsund Parade all showcase this island at its kooky, spirited best. Capping off the year are a number of "drops" at midnight around town, including a drag queen, a conch, and a key lime wedge. Eat your heart out, Times Square.
Oceans Edge offers a free daily shuttle to and from downtown Key West, so you can get out to experience the fun without having to drive. For those looking to do some low-key celebrating, Yellowfin Bar & Kitchen here at the resort prepares a special New Year's Eve menu that includes a split of house champagne! We book up fast in December, so plan ahead to book your holiday-season stay in this tropical paradise.
December weather in Key West
Average High Air Temp 75.9° F (24.4° C)
Average Low Air Temp 66.9° F (19.4° C)
Average Water Temp 74.5° F (23.6° C)
Average Rainfall 1.8 inches (4.5 cm)
Average Sunset Time 5:37 p.m.
Top tips for packing your bags in December
Summer gear like flip-flops, shorts, and a hat
A light layer and long pants for possible cooler temperatures at night
December events
I Love Stock Island Festival
Key West historic home tours
Lighted bike parade
Lighted boat parade
Key West Triathlon
Dachsund parade
Christmas dinner at Yellowfin Bar & Kitchen